The cherry harvest that wasn't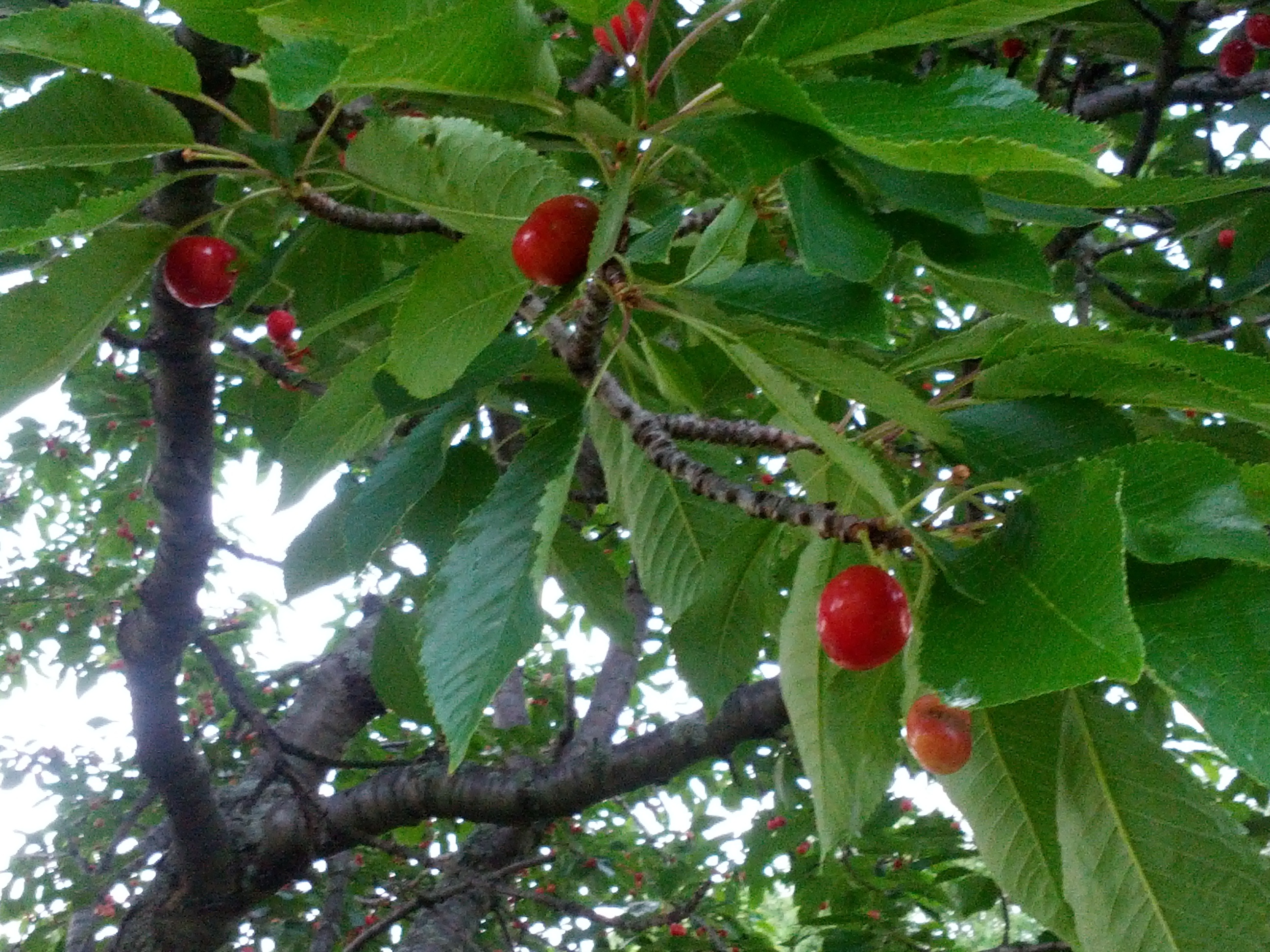 Strange, I always thought 'for the birds' was an idiom lacking positive connotations.
To me, it meant paltry, not good - at least not for human consumption. But after tonight, I'm convinced that whoever coined the phrase was no ornithologist. The poor misled soul probably figured birds ate nothing more than dry, hard seed and no human with at least one functioning taste bud would want partake in such fare.
So the saying was born, to be said about something undesirable, that no one would want.
What about the birds who eat cherries, though? Entire trees loaded with cherries?
Clearly, 'for the birds' means getting the best, sweetest, reddest fruit before any human can because that's exactly what happened tonight.
It was going to be a Garden of Eating - Niagara first. Our first cherry harvest. I was feeling just peachy after an email landed in my inbox late last week telling me to come quick. There were cherries to be had in Niagara Falls and the owner of the tree wanted to donate them to a good cause.
I was skeptical at first. It seemed so early for the bulbous berries that are the delicious segue between strawberries and peaches. Another fruit whose season is altogether too short, just like tonight's harvest proved to be.Indeed, there were cherries ripe for the picking. And it was a rather large tree. I felt confident saying on Thursday we'd be there Monday for our first cherry harvest as an organization. But birds wait for no one. Birds have no sense of philanthropy.
Birds like cherries. They eat cherries. Huge trees full of them. They invite their friends and have a party. Why not? There were enough there to host an all-you-can-eat buffet for at least 72 hours.
And just to get their point across that 'for the birds' is a saying we bipeds with big brains and opposable thumbs coined in ignorance and one we continue using in the same manner, they left two under-ripe cherries hanging just out of reach.
You know, for the humans.
But all was not lost. We were shown two lovely apple trees, hard at work on their crop, which we can harvest this fall and by then, they will be too big for birds to devour.
We've also already harvested about 30 pounds of strawberries for Pelham Cares.
And we're in the throes of another mulberry harvest. Purple-stained hands for all, I say. For the next few weeks, any sight of my hands by strangers - and maybe even those who know me - will conjure questions about my personal hygiene. But rest assured, it's just mulberry juice that holds fast against even the best soapy scrub.
Speaking of mulberry juice, some of those berries could be appearing in food truck fare near you as part of our fundraising efforts to cover our annual insurance costs. Perhaps even in mulberry iced tea. Whatever the case, it will be something quaffable.
And most importantly, it won't be for the birds.
Posted by thegardenofeating-niagara at 10:01 PM EDT